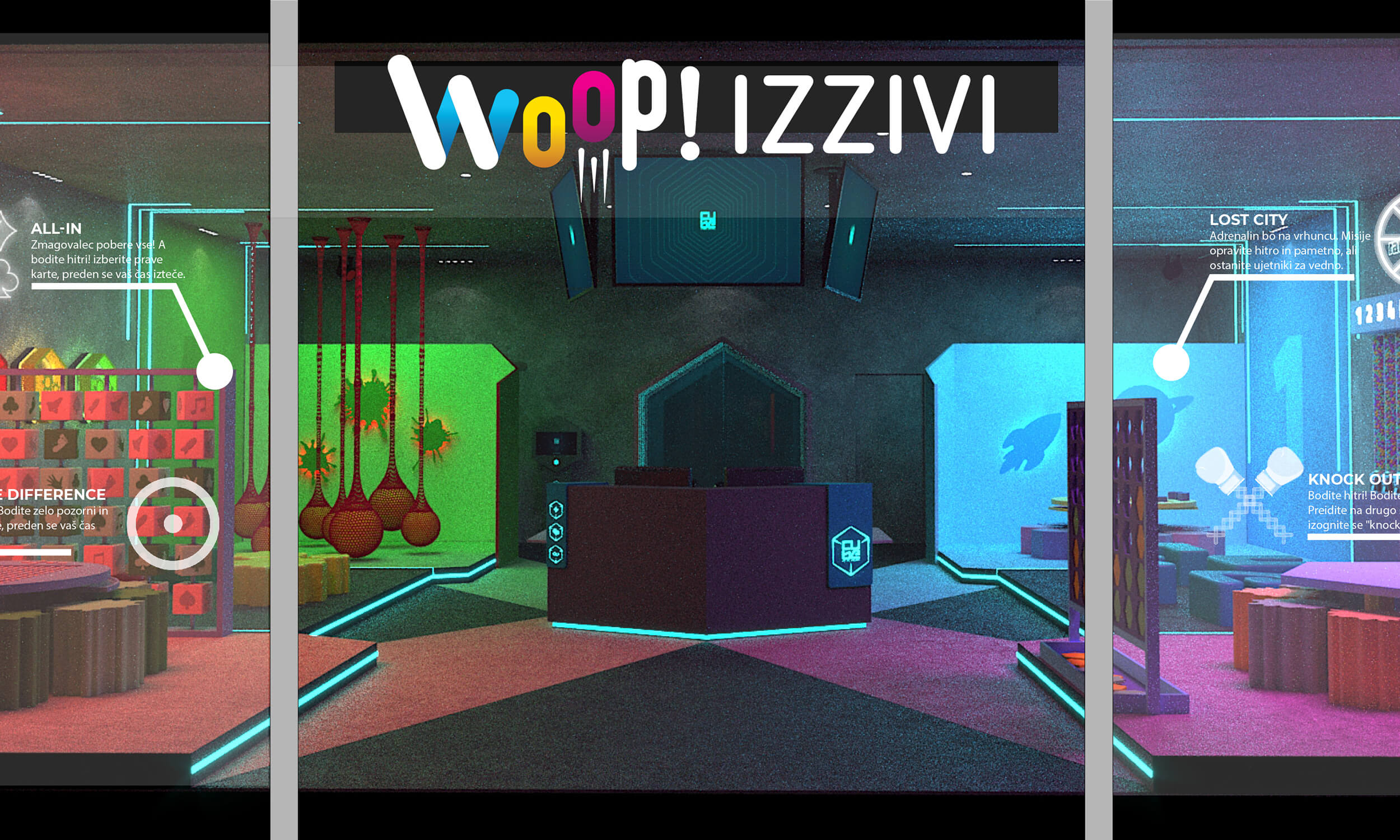 Ready for action? 20 fun challenges that trigger your endurance, logic and skills wait for you at the WOOP! IZZIVI arena. Gather your team and beat the best score!
Fun times with exciting WOOP! Challenges
Always exciting, always amazing … welcome to WOOP! IZZIVI challenges. A completely new attraction in Slovenia, WOOP! brings fun for all generations. WOOP! IZZIVI is a team game with many different challenges in which you collect game points. Prove yourself and lead your team to the finish line.
At Supernova Ljubljana Rudnik there are 20 different challenges in three categories – endurance, logic and skills. Beat the lava course and running maze, come up with a strategy to beat knockout and show off your strength in the endurance challenges. Deactivate a bomb, solve unusual math problems, correctly connect patterns and solve a musical task using logic, and max your skills to shoot at football targets, get through a pool filled with balls or play interactive Twister and live Tetris. Your goal is to take your team of 2 to 6 people to victory, beating all WOOP! challenges in the shortest time possible. Your competition? Other teams that are also competing for the most woopastic challenger spot.
All WOOP! IZZIVI challenges are suitable for adults and kids from 6 years on. To make the game more exciting, bring the whole family, a group of friends or make it a teambuilding day with your co-workers. For safety, it is mandatory to wear non-slip WOOP! socks.
New gaming experience at WOOP! VR
Pick up a VR headset and join an exclusive adventure in virtual reality. With your friends you can jump into a Viking world, the Wild West or deep into the galaxy, where you can build the longest alien snake. Or become Ghostbusters and take on a ghost hunt. Tackle pirate chefs, save the world from zombies or dance your bum off in an out of this world dance contest. Choose your game and just dive in.
Discover the new dimension of gaming at Supernova Ljubljana Rudnik. The VR platform is in front of WOOP! IZZIVI.
Find out more about WOOP! VR here.
WOOP! is a fun park of happy people
WOOP! is much more than a trampoline park with many other fun attractions. It is a space offering safe fun for the whole family, adrenaline rush and high energy. The WOOP! team brings to visitors a new way to socialize, making it active, fun and directed to personal growth. In the WOOP! world of fun you can find a huge trampoline park with over 102 trampolines, WOOP! Arena with bowling alleys, escape rooms, laser tag, and VR experiences, WOOP! karting, WOOP! IZZIVI challenges at Supernova Ljubljana Rudnik, Supernova Maribor Tržaška and a special WOOP! space at Murska Sobota.
WOOP! supports healthy and active lifestyle immersed in fun, also giving a lot of emphasis to make kids more active. It offers an inclusive environment for people to get loose, play and enjoy themselves in pure fun. Despite being high adrenaline, all WOOP! experiences are completely safe with high-quality equipment and qualified staff overseeing all premises. WOOP! is also the home of the acrobatic group Dunking Devils, who use the WOOP! arena to train and plan all their unbelievable stunts.