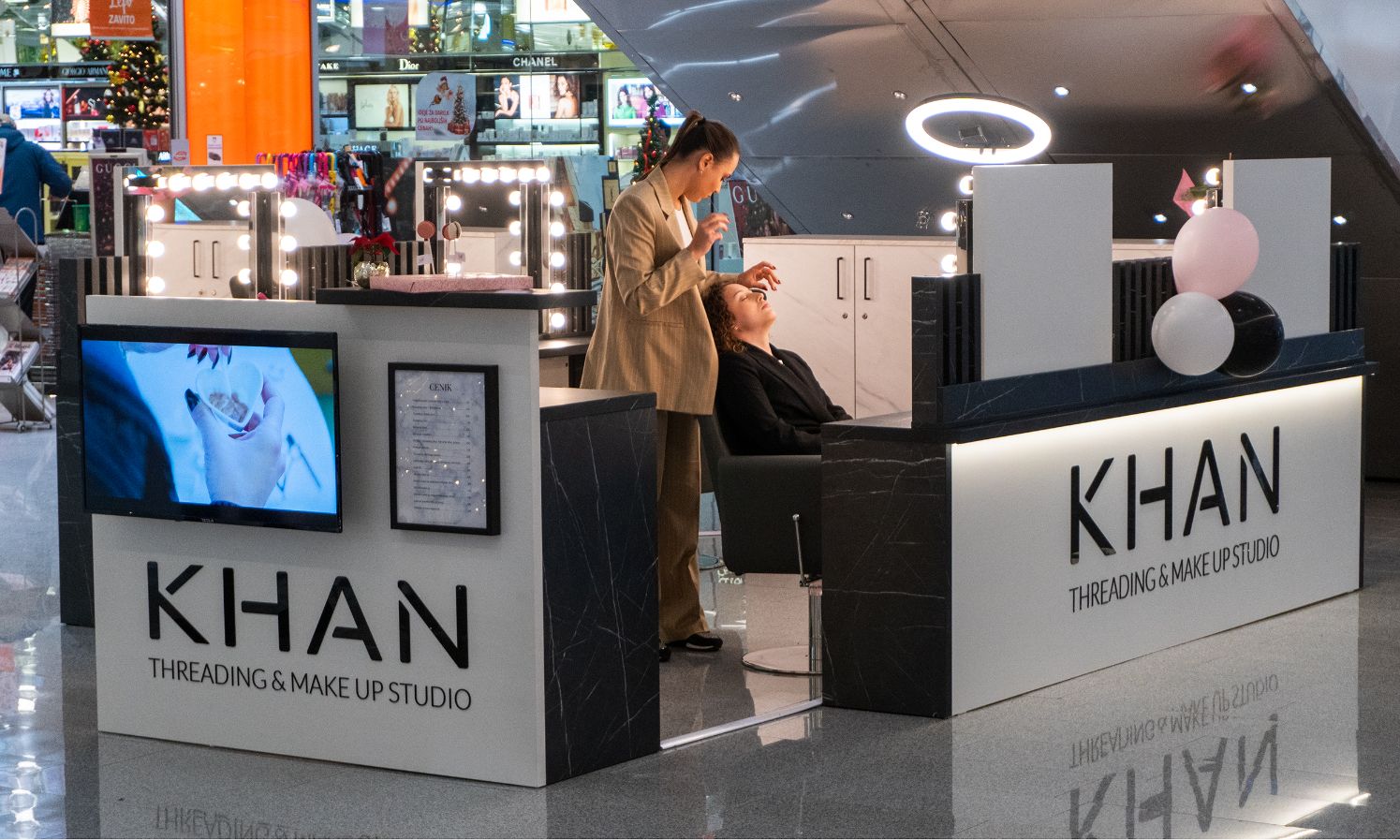 Threading, lamination, and make-up. Khan threading & Make-up Studio offers a complete beauty service for your eyebrows and face.
Threading for a perfect eyebrow shape
Have you tried threading? Threading is a popular grooming technique to get the perfect eyebrow shape and remove stubborn facial hair using a thread. This ancient method is currently gaining popularity, as threading does not damage skin, keeping your face soft and smooth. And compared to waxing, threading rarely leaves any irritation.
At Khan threading & Make-up Studio you will find experienced threading professionals. Visit the Khan salon at Supernova Ljubljana Rudnik and experience a new world of brow shaping. Your eyes will pop
out with seamlessly shaped eyebrows. Threading removes all targeted hair, even the most elusive peach fuzz, resulting in clean, perfect brow lines. You can also get brow colouring, upper lip threading, random stubborn facial hair removal or go for a clean and sharp beard trimming, specially tailored to modern gentlemen. For a complete beauty ritual, Khan studio also offers lamination, lash-lift and everyday or special event make-up services.
Khan – the first walk-in threading studio in Slovenia
Visit Supernova and let experienced threading professionals do their magic to elevate the natural beauty of your face with a perfect brow. Khan threading & Make-up Studio adopts a handy walk-in concept at convenient locations, making it a perfect beauty spot for modern consumers that are always on the go. Simply go to the studio, sit in their comfortable chair and get a perfect brow service. Khan studio is located in the heart of the shopping centre and there is no need to pre-book any of their services.
Modern atmosphere, amazing service and great price. Get the best pampering at a beauty salon, specialized for your eyebrows and face. With professional care and precise brow shaping, Khan studio has become a crowd favourite. Try the new brow shaping technique and make your eyes the star. Every single day.