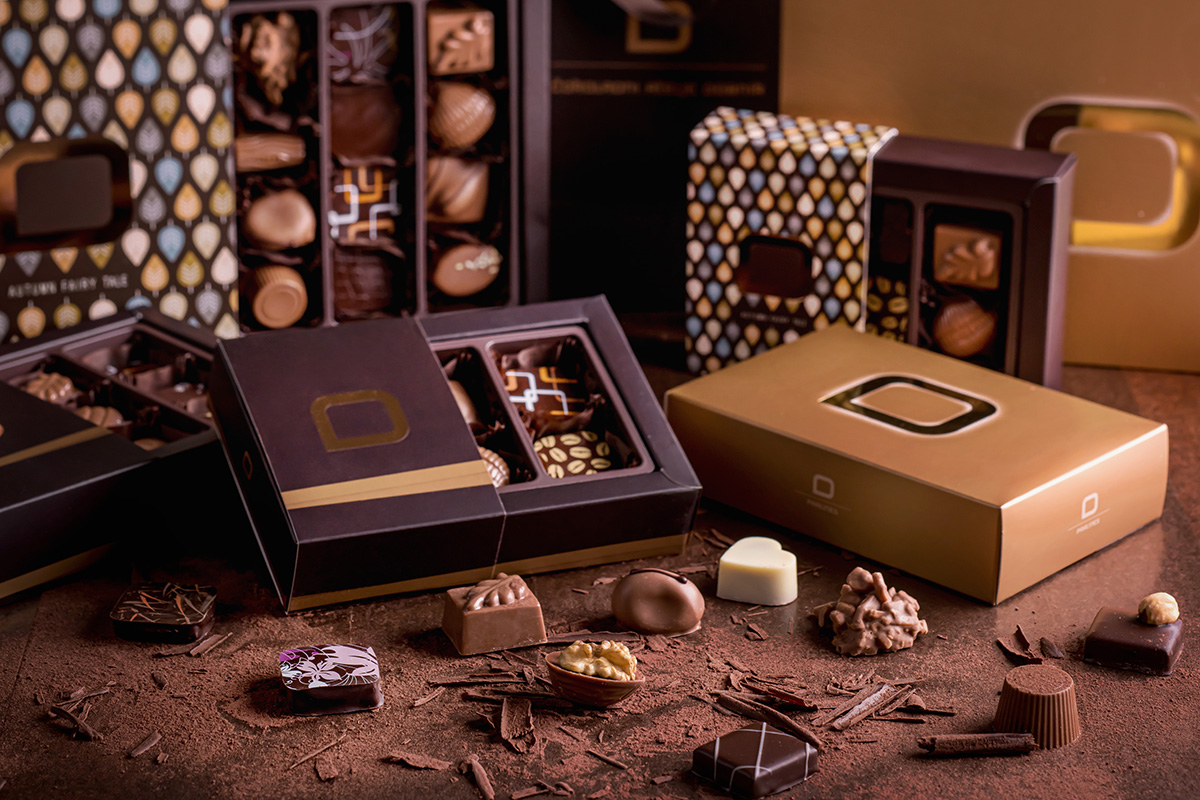 Fine hand-made chocolate and other chocolate delicacies. Chocolate atelier Dobnik offers divine pralines, exclusive chocolate bars and delicious cakes made with the best ingredients.
Taste the best notes of real chocolate
Chocolate heaven exist and it is located at Supernova Ljubljana Rudnik shopping centre. Selected tastes of the finest chocolate waits for you at chocolatier Dobnik. The chocolate atelier Dobnik is a boutique store with the finest top-quality chocolate and chocolate delicacies. If you are a true chocolate lover, indulge in the luscious chocolate bars made with high-quality dark, milk or white chocolate and various toppings. And when you are in the mood for something special, try the Gold Gran Cru collection made with the most prestigious cocoa beans.
For special celebrations the chocolate atelier Dobnik has amazing chocolate gifts boxes with chocolates and pralines filled with the most outstanding flavours. From classics like nougat, chocolate cream and krispies to bolder flavours like alcoholic pralines and chocolate truffles, you can never go wrong. Don't forget about a birthday or wedding cake – you can also order them at the chocolate atelier. Step into chocolate dreams and treat yourself with real chocolate made in Slovenia.
Chocolate atelier Dobnik – the first chocolatier in Slovenia
The chocolate atelier Dobnik is a family business with over 25 years of tradition in the chocolate making field. Inspired by traditional Belgian chocolatiers, the Dobnik family started the first chocolate shop in Slovenia in their hometown of Žalec. Dobnik chocolate and chocolate delicacies are well-known for their high quality and carefully selected natural ingredients. Chocolates are hand-made with real chocolate and no added preservatives, which results in perfect and true chocolate flavour. Considering seasons and new trends, chocolatiers at Dobnik always test new recipes and new combinations of flavour, making every visit at Dobnik stores an amazing experience. Besides the regular offer of chocolate bars, chocolate boxes with pralines and cakes, there is always something new and exciting to try. At the atelier they are especially fond of dark chocolate with high cocoa content, which is also very beneficial to your health.
Chocolate ateliers Dobnik are available in Ljubljana, Celje and Žalec. At all stores you can also try the original registered specialties "Prešernove fige" (dried figs in cream, covered in chocolate) and "Frančeve čvešpe" (dried plums filled with walnut, covered in cream and chocolate).