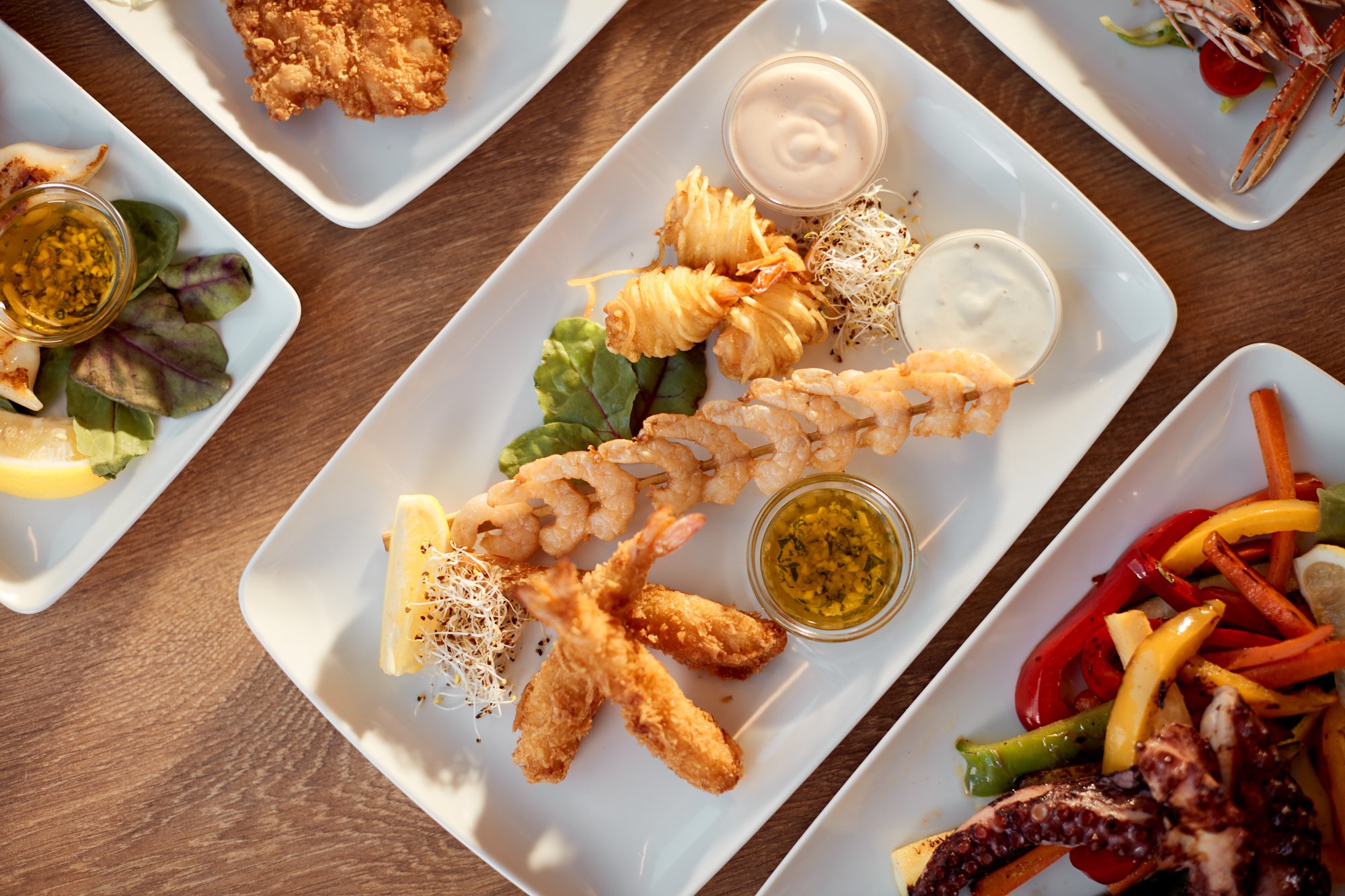 Delicious seafood tapas, fresh fish from the Adriatic Sea and healthy Mediterranean food with Istrian flare. And, of course, quality wine that pairs well with the menu.
Enjoy a gourmet seafood feast
Wine and fish. The name says it all. The menu at the cosy homey restaurant Vino&Ribe in the culinary oasis at Supernova Ljubljana Rudnik is full of authentic Mediterranean food, fresh fish and other delicious seafood. From juicy fried sardines to grilled sea bass, shrimp, calamari (fried or grilled) and other seafood, the kitchen at Vino&Ribe always brings the best aromas of gourmet seafood dishes. Have you already tried the cod burger, traditional Istrian brodet or buzara style shrimps? They are perfect for lunch, a quick bite or gourmet hangout with friends. All dishes can be also ordered to go, so you can eat them anywhere.
The delicious fish dishes are enjoyed best with a nice glass of wine. And by wine we mean authentic Istrian wine. At the restaurant you can order the best local wines, Malvazija and Refošk, made by the restaurant owners. If you love sweeter wines, try the Golden Malvazija, while for a bubbly refreshment order the sparkling wine Frizzantin. You can also choose from other boutique and high-end wines.
Vino&Ribe spins rich Istrian flavours in a modern way
Minimalistic, modern, affordable and delicious. This is the winning combination that makes Vino&Ribe restaurant a favourite among even the biggest lovers of authentic seafood. The rich flavours of Mediterranean food and Adriatic region create a unique menu starring the best fresh fish, seafood and quality wine. The restaurant owners produce their own wine Čok, olive oil and vinegar which bring to the already amazing dishes a special authentic and homey flare. And it shows in the unbelievable taste of every single bite. Besides that, the restaurant makes a great effort to source most of the ingredients locally, form local fishermen and seafood providers. This makes sure that everyday the offer is fresh and highlighted with the best local seasonal flavours.
The first Vino&Ribe restaurant opened in Ljubljana in 2016. Today you can find the cosy restaurants in the capital's old city centre and in culinary corners of local shopping centres.