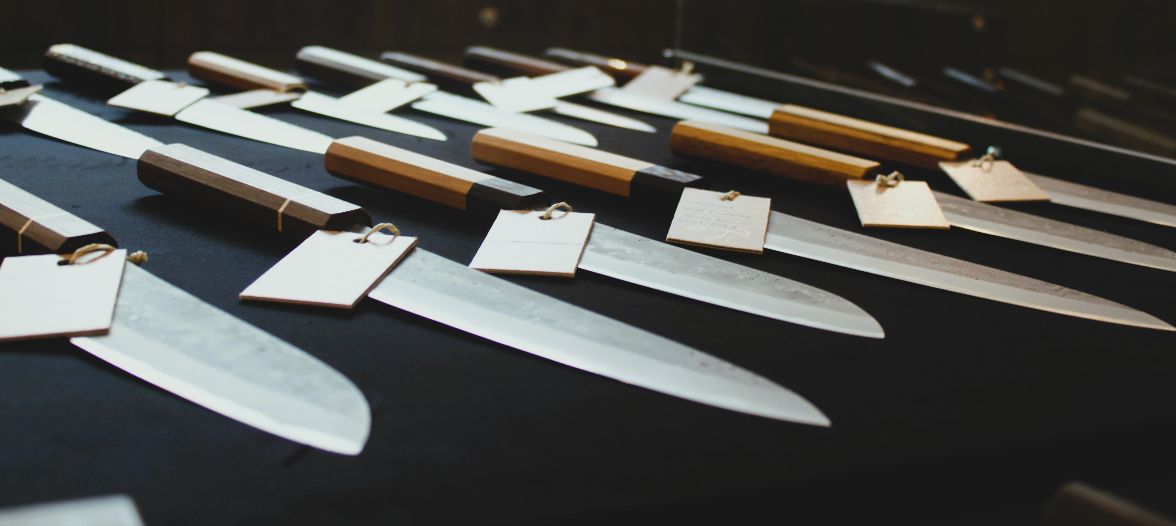 Original Japanese knives with soul. Get high-quality kitchen knives that will last for a long time and take your cooking to a whole new level.
Sharp edge and smooth cut – a kitchen in not a kitchen without a good knife
Cooking is an art, starting with the selection of a good, sharp knife. Step into the world of Japanese knives and let your culinary inspiration choose the perfect knife. Knajfi store has a selection of over 200 different kitchen knives from established Japanese brands. All knives are masterfully designed, high-quality and ultra sharp, achieving immense precision and elegance in every single cook.
In the Knajfi store at Supernova Ljubljana Rudnik you can find popular Santoku knives, suitable for every task in the kitchen, Yanagiba knives, designed for thinly slices of sashimi, carpaccio and sushi, Nakiri knives for cutting vegetables and many more – Kiritsuke, Petty, Bunka, Deba, Usuba knives and so on. If you are new to the world of Japanese knives, consider a Gyuto knife. This is an equivalent of the western chef's knife and is one of the most indispensable tools in the kitchen, used for almost any cutting, chopping or slicing job.
The kind shop assistants at Knajfi store are very knowledgeable on every Japanese knife and will gladly help you choose your best fit. Whether you are looking for your first knife, buying for a new kitchen or shopping for the perfect gift for the next star chef in your inner circle.
Knajfi – the home of traditional Japanese knives
The Knajfi store originates in the immense love for food and barbecue. While discovering different cuisines, kitchen accessories and cooking tools, the founders were inspired by Japanese knives and the art of Japanese cooking. The art and precision Japanese chefs bring to cooking motivated them to share this world with many food lovers and chefs on the Slovene market.
The Knajfi store was born, with a wide selection of top-quality Japanese knives from many established brands. Only the best quality knives, made following Japanese tradition make it to Knajfi store.
Japanese chefs believe that our soul transcends to our knives when we start using them. In the words of Masaharu Morimoto, former head chef of prestigious restaurant Nobu, this mindset is still present in the spirit of modern Japanese chefs. And is with this same mindset that Knajfi store leads the way – by giving every single person the chance to find the perfect knife for their cooking endeavours.