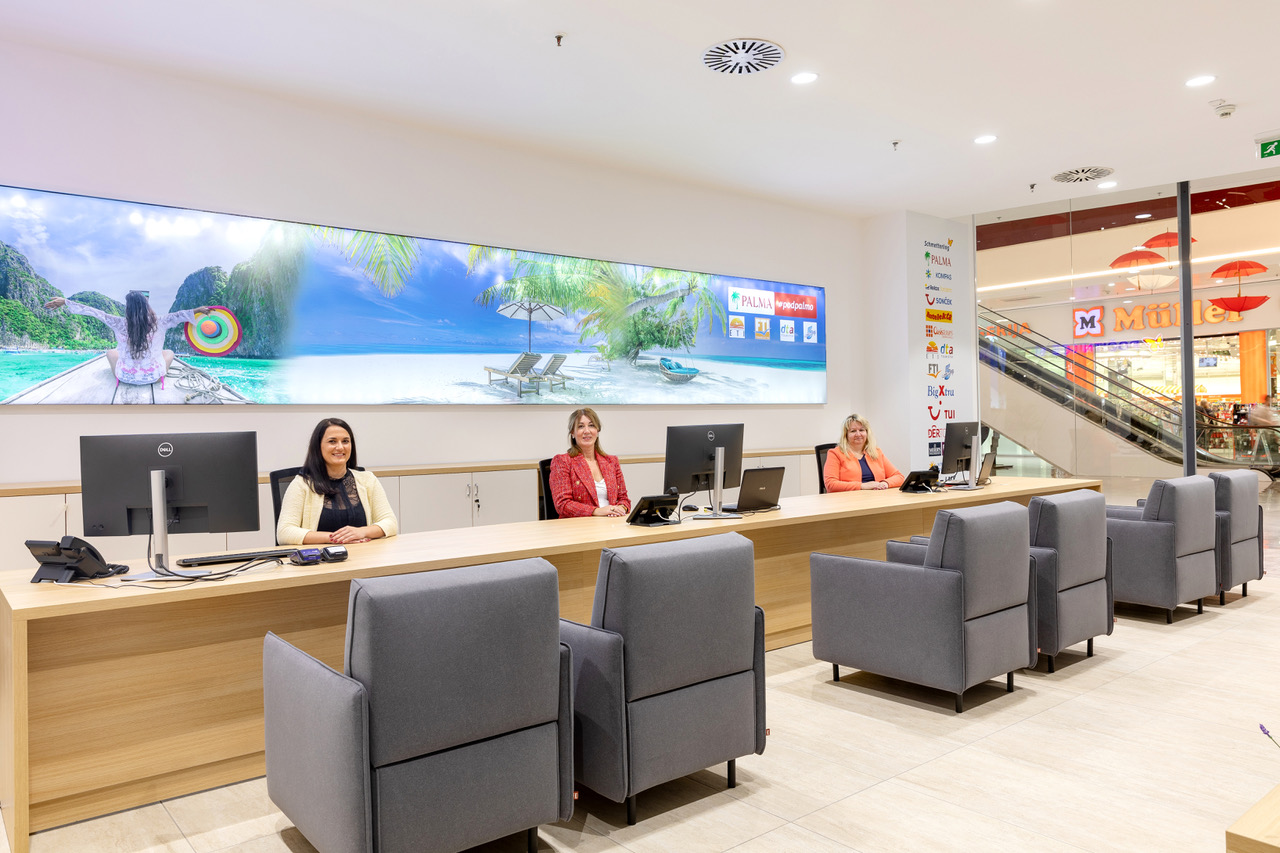 In the Počitnice.si travel agency, you can book holidays in Slovenia, Croatia, Greece, Turkey, Egypt,... With us you can book holidays for: Palma, Kompas, Relax, Sonček, FTI, TUI, ETI, Intelekto, ... with by plane or by own transport.
Book holidays organized by all Slovenian tour operators by plane or your own transport in one place at the Pocitnice.si travel agency
You can book holidays in Slovenia and Croatia at the Počitnice.si branch or on the website www.pocitnice.si. Especially favorable offers await you for Turkey, Egypt, Spain and Greece.
Choose your favorite exotic destination at an affordable price
You can visit the Počitnice.si tourist agency in Supernova Ljubljana Rudnik at the office, which is located on the ground floor of the shopping center, opposite the entrance to the Müller store and next to the C&A store. You can choose between affordable last-minute and first-minute vacations in the diverse range of vacations. The agency also allows you to travel to exotic destinations around the world at affordable prices.
The tourist agency guarantees quality and reliability to its customers, as it has many years of experience and always listens to the wishes and demands of Slovenian tourists. There are trips and excursions from the last minute offer, which are reduced by up to -30%. For vacations in the agency, you can choose from destinations such as Turkey, Greece, Egypt, Tenerife and Gran Canaria, Dominican Republic, Zanzibar, Cuba, Maldives, Seychelles, Dubai and Mauritius. The agency offers a variety of vacations in apartments or in all-inclusive hotels in the Canary Islands, Turkey or Greece, Hurghada or Sharm El Sheikh.
About the agency Počitnice.si
The tourist agency Počitnice.si d.o.o. was created in cooperation with the German tourist agency Schmetterling International GmbH & Co. KG, which has its headquarters in Geschwand near Nuremberg, and provides tourist arrangements for all Slovenian as well as foreign tour operators. Schmetterling International is the largest, independent and owner-managed tourism company, i.e. tourism cooperative in Europe and employs more than 330 highly qualified employees.
The tourist agency provides clients with the highest quality tourist products of all organizers, trips from Slovenia, Austria and Germany, the lowest prices, and all offers collected in one place, and every day of the week, telephone information about the offers is also available. The agency offers holidays with air transport, accommodation without transport and guided tours. In addition, the offer also includes tourist health insurance with assistance abroad and cancellation risk insurance.