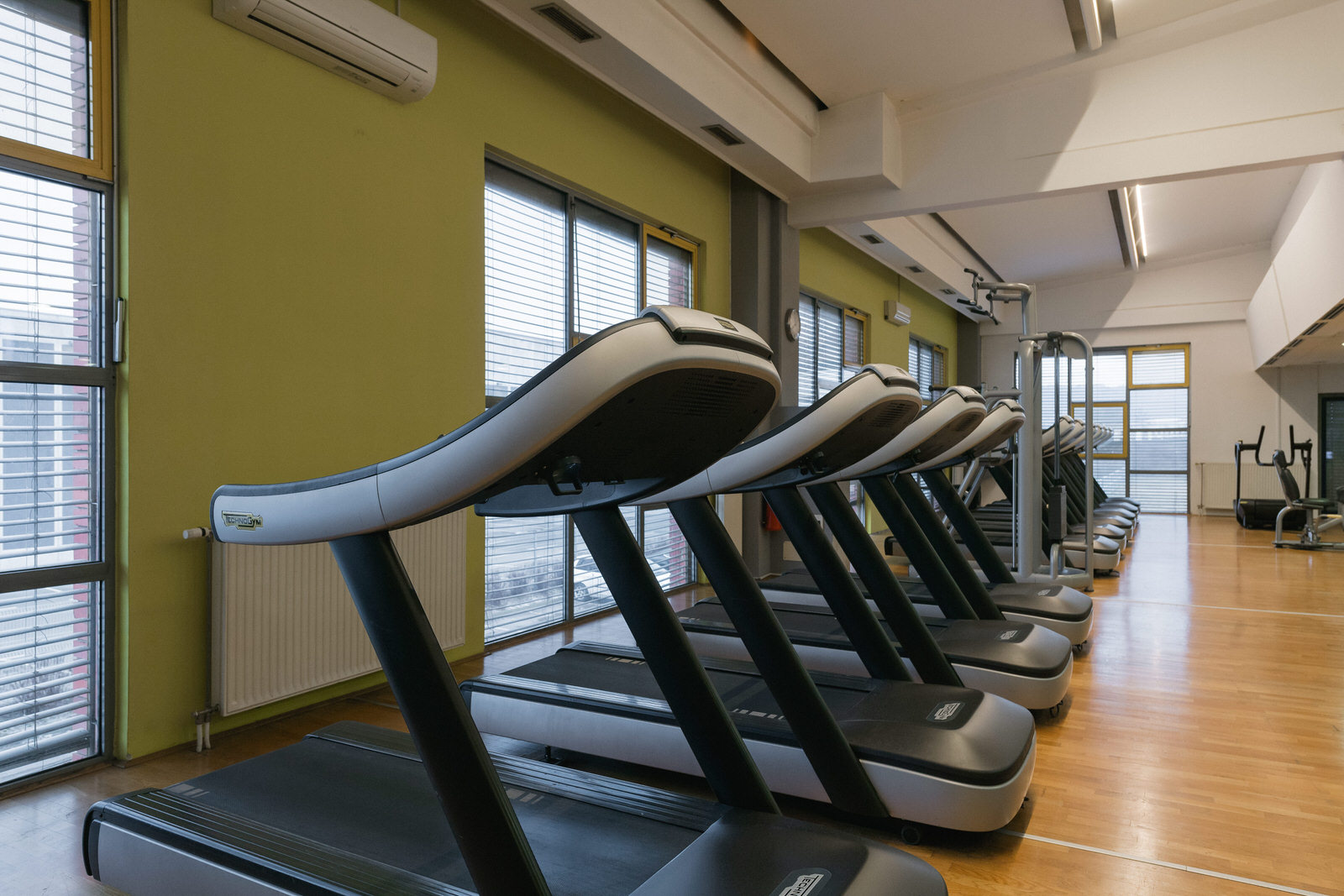 State of the art fitness with everything you need for a perfect training session. Training gear, group fitness and experienced trainers will lead you to new goals and a healthy life.
Workout with the amazing FIT 13 team
Enjoy the best fitness experience in the comfort of Supernova Ljubljana Rudnik shopping centre – FIT 13 on 1.000 m2 brings something for every taste. The big fitness hall is equipped with the latest gym machines from Technogym and Kingsbox. Warmup on with one of the many cardio workout options and target your muscles with strength training, using free weights and gym equipment, or test your endurance in the power cage. A big feature is the 40 m long artificial grass training zone – perfect to spice up your workout.
Do you prefer group fitness? In the 200 m2 functional hall you can choose among 45 classes weekly. From Pilates to high intensity training like CrossGym and BootCamp, find a group workout you will enjoy. All fitness zones at FIT 13 are spacious and clean, and with 5 m high ceilings they are very airy. FIT 13 welcomes all – whether you are a weightlifting fan and a professional athlete or a complete beginner that just wants to workout for a bit.
Before or after your training session, feel free to stop at the Fit Bar where you can enjoy delicious protein shakes, healthy snacks or drink a coffee. At the bar you can also buy sport food and dietary supplements.
Fitness FIT 13 ignites the love for sports
For over 25 years the FIT 13 team has been successfully translating the love for fitness and active life to their customers. Since 1997, when the first FIT 13 at Brnčičeva in Ljubljana opened, the team takes special effort to make the perfect training environment, writing one of the most successful local fitness stories. The same story that is now expanding to new locations. The main FIT 13 goal is to create a welcoming and relaxed atmosphere in which everyone can find motivation and inspiration to train harder.
Are you a complete beginner or need additional motivation to reach your fitness goals? AT FIT 13 you can train with experienced fitness coaches. Working with a coach leads to reaching goals faster and is at the same time safer and more fun. FIT 13 has a team of selected personal trainers and coaches that are professionally trained and verified by FIT 13. So you always get a professional service and max satisfaction during your fitness sessions.