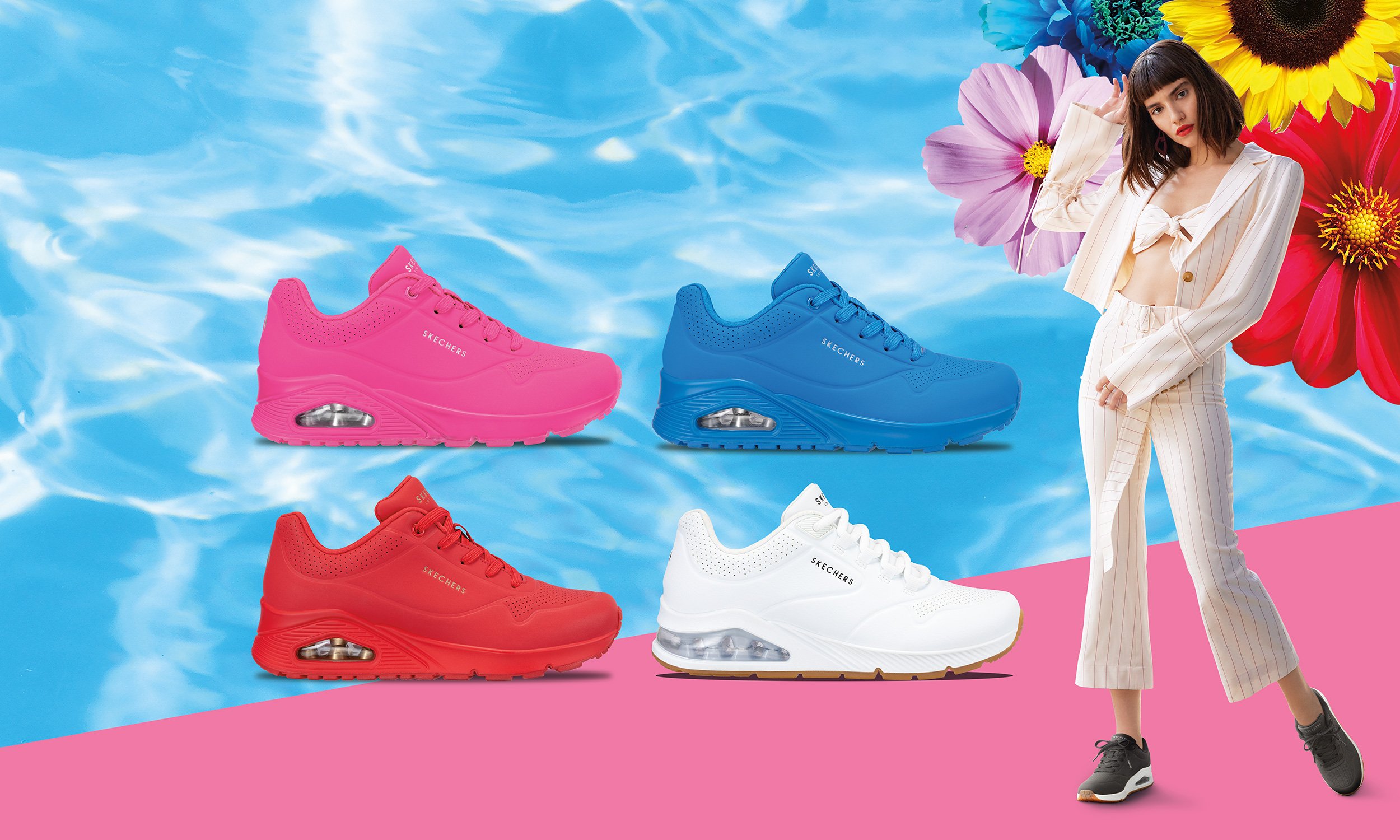 Comfortable footwear for leisure and sport. Skechers brings joy to your feet with soft memory foam and attractive new sneakers design.
Trendy sneakers that fit perfectly
They say once you try Skechers, you never go back. The comfortable anatomic sole supports your arches perfectly, even on long walks or when you are on your feet the whole day. Enjoy the comfort of soft memory foam and innovative shoe design. Skechers footwear is made for walks, discovering new cities and enjoying sports. Fresh new collections make your casual look always impeccable and stylish.
Find your favourite pair of Skechers at Supernova Ljubljana Rudnik. The Skechers store brings the latest trends for women, men and kids. The adult collections are full of innovative design, soft sneakers and attractive colours. Trendy casual sneakers or running shoes for your active lifestyle? Skechers always brings the perfect support for safe movement. Do not miss the work shoes collection with stronger support or the varied leisure footwear with slippers, ballet flats, ankle boots and comfortable men shoes. Kids will love the flashy light-up sneakers, with led lights blinking while walking, jumping and playing. Adorable kids shoes in playful colours and attractive designs are a must for a cool kids wardrobe. New collections are already available at the shopping centre.
Skechers – comfort technology for your feet
Quality, innovation, comfort and perfect style. These are the pillars on which the Skechers brand creates sports and leisure footwear. The first pair of shoes under the name Skechers was launched in 1992. Surprisingly, these were not sneakers or sport shoes, but logger boots! A few years later Skechers enter the market of sport footwear, conquering the heart of many recreational athletes and comfort lovers. From GoRun running shoes to leisure casual footwear made for walking, Skechers became a true sensation across the world. The next milestone came in 2013, when the brand launched the most comfortable shoes yet that came with memory foam sole. The Skechers Memory Foam sneakers opened a new era of comfort, becoming one of the most popular shoes for work, sports and leisure.
Today, Skechers sells over 200 million pairs of shoes per year in over 180 countries. A huge part of the company mindset are innovations that push the boundaries of comfort and at the same time take care of our planet. That is why Skechers has also a collection of shoes made from recycled materials that helps reduce the company's environmental impact.