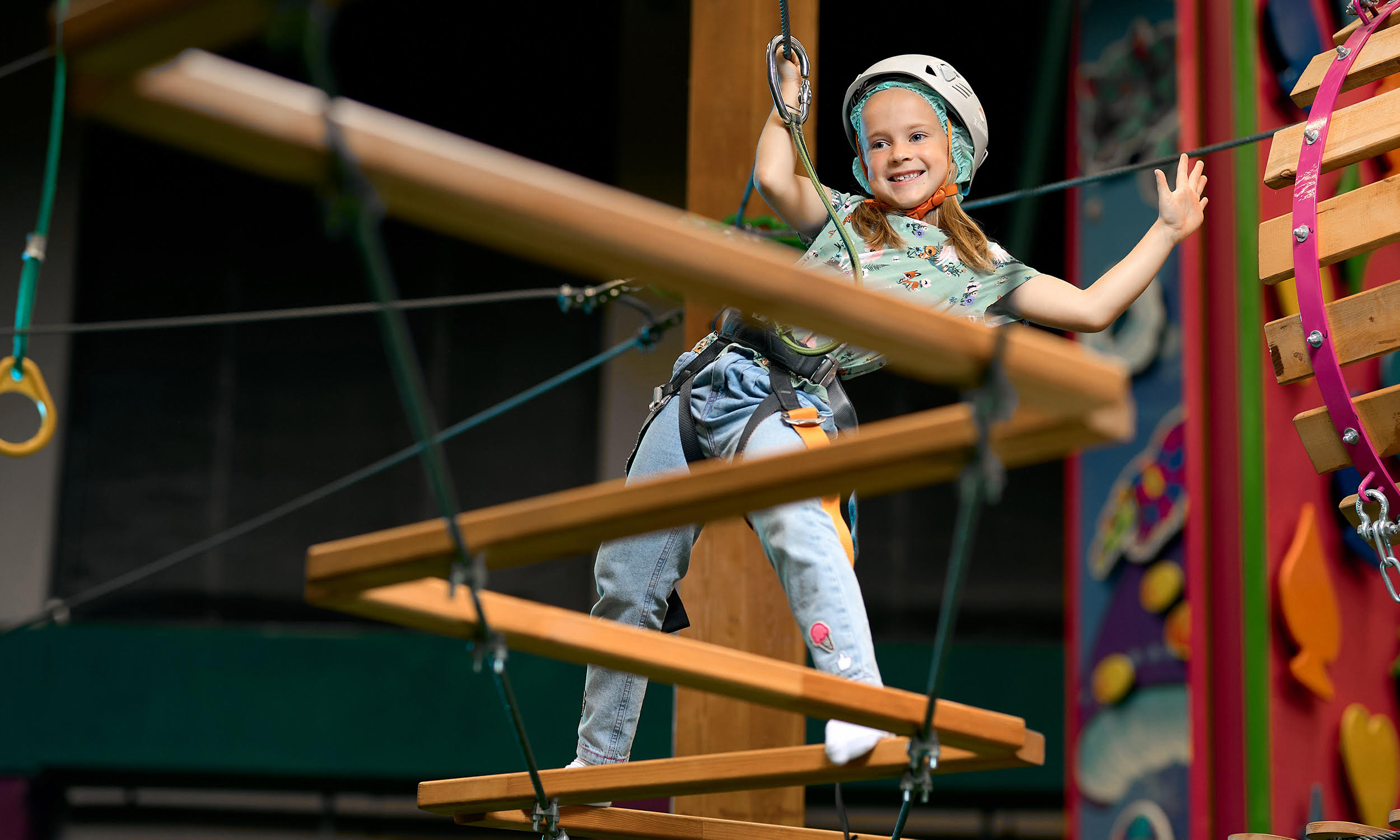 Welcome to the exciting world of fun for kids. Zumma Kids playground is the happiest place on Earth. On 1.500 m2 you can find amazing structures and interactive games for kids of all ages.
Playground structures, trampolines, climbing walls and more
Zumma Kids playground brings to Supernova Ljubljana Rudnik a completely new experience of fun for kids. On more than 1.500 m2 children can find innovative unique playground equipment. They can challenge themselves climbing and exploring possible ways in the TAG arena or in the labyrinth, enjoy jumping on trampolines and discover hidden interactive corners. For the bravest kids there is an adrenaline park with pending bridges and suspended obstacles. At Zumma Kids the fun never stops.
Looking for a perfect location for kid's birthday? At the playground they organize amazing birthday parties, including animation like bubble party, tik-tok party with neon face painting, mini disco or a pinata. While kids play and have fun, the Zumma restaurant keeps them happy with amazing birthday catering. And not just for birthdays, at the restaurant you are welcome every day. Parents can chat in comfort while sipping a delicious coffee or refreshing drink, and if kids get hungry while playing, you can order a lunch menu or a la carte dishes.
Zumma Kids is for children 4 to 15 years old. For little toddlers, up to 3 years, there is a Mini Zumma Kids corner with equipment tailored to them. All kids must wear special Zumma socks and bracelet to enter the playground and must obey the rules for safe play given by the staff.
Zumma Kids – the happiest place in the world
Zumma Kids, a renowned international brand of kids' playgrounds and experiences, is now also available in Slovenia. Big and attractive Zumma Kids playgrounds are always ahead of other classic play corners in shopping centres, as they bring unique and innovative playground structures, made for long hours of fun with friends.
The playground equipment is exciting, full of adrenaline and encouraging active kids' play, but always built with safety in mind. All structures are tested and built according to European standards, while adrenaline segments higher above ground also have safety buckles and are usually supervised by experienced playground staff. Zumma playgrounds have their own restaurants with delicious lunch menus and birthday catering for kids. The Zumma mascot is known for visiting the playground quite often, making kids' play even more fun. Do not forget to take a photo with him, he loves to pose in front of the camera.