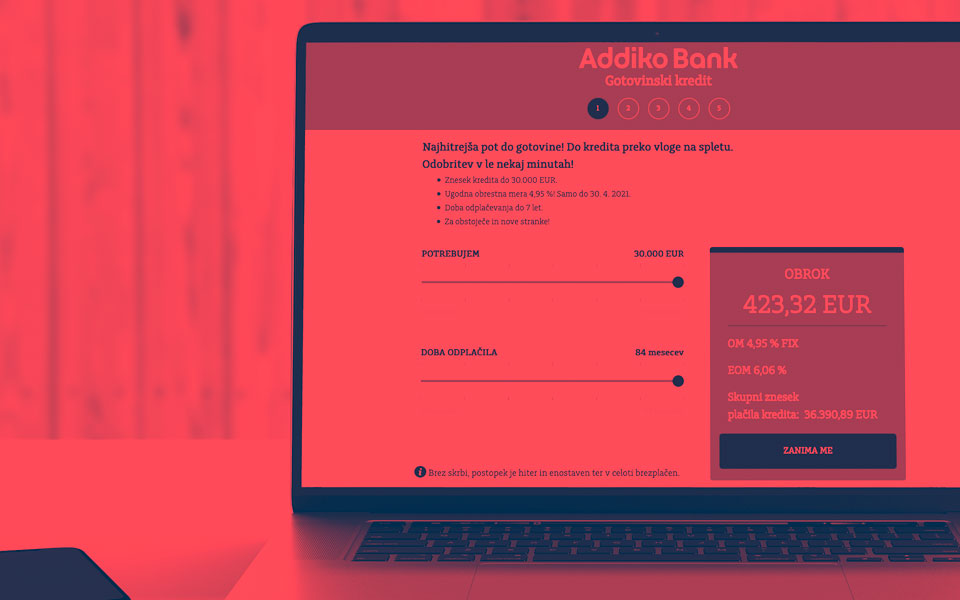 Easy and effective banking services. Loans, insurance, saving accounts, credit cards and other financial services are made easy at Addiko Bank, as you can take care of everything while shopping.
A bank with quick and comprehensive services
Need a new bank? Step to the side of personal, quick and easy banking services from Addiko Bank. The modern bank offices are conveniently located inside Supernova Ljubljana Rudnik shopping centre, so you can take care of everything while shopping. Experienced Addiko Bank banking consultants will offer you great housing loans for when you decide to buy a new home or renovate your house, explain all convenient quick consumer loans, help you open a new bank account and answer all your questions about liquidity, collateral, personal account limit, interest rates and savings plans tailored to your needs.
Even when you decide to pay for bigger purchases in instalments, need a new Maestro contactless card, a Mastercard credit card, a prepaid card for safe online shopping or reliable state-of-the-art online banking services, Addiko Bank has affordable solutions for you. Open a new bank account at Addiko Bank and don't worry about anything. The bank offers to new clients a free of charge transfer of savings to the new account, quick and effective for your convenience. Make your banking easy with Addiko Bank.
Addiko Bank - simple and reliable value-added banking services
Addiko Bank AG is a banking network with key markets in Croatia, Slovenia, Bosnia and Herzegovina, Serbia and Montenegro within Addiko Bank AG joint umbrella company, headquartered in Vienna, Austria. The key to its success is building Addiko Bank by creating value for customers and focusing on what really matters to them - fast, easy, reliable and efficient banking services for every day. Addiko Bank thus provides quality services based on customers needs, and is committed to continuously improving and adapting them to current market changes.
Addiko Bank follows the philosophy of "we prefer to do few things perfectly than do many things well". Therefore, the bank does not offer a full range of banking services, but only those that bring greater added value to customers. This ensures quality, easier financial decisions and secure services. Addiko Bank is the right choice for you if you are looking for a bank that focuses on efficiency, clear and understandable services as well as shorter waiting lines.