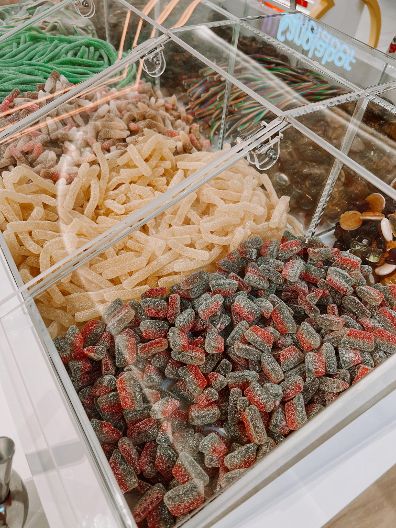 Amazing gummy bears and other candy for all candy lovers. Jelly candy from Bears & Friends bring a new sweet experience. Try also vegan jellies and sugar free, lactose free or gluten free gummies.
Gummy sweets that taste amazingly
For all the gummy bear lovers out there, we have a new little gummy heaven at Supernova Ljubljana Rudnik. The little shop Bears & Friends brings a true little oasis of amazing sweetness to the shopping
centre. Discover all the interesting flavours of adorable colourful gummy bears, jellybeans, gummy worms and other candy.
Bears & Friends gummies are made with lots of fruit juice, pieces of real fruit and only natural colorants, which make the gummies especially juicy. Do you prefer sweet candy or are a sour candy addict? Bears & Friends has plenty of choice for every flavour profile.
In the incredibly wide selection of delicious high-quality gummy treats you can also find vegan gummies with no animal products and sugar free candy made with alternative sweeteners, which are suitable for diabetics and everybody who wants to lower sugar intake. Want to try something more exciting? Choose liquorice candy, chili gummies, soft marshmallows or sour candy and worms.
Bears & Friends brings quality treats to your sweet cravings
A wide selection of quality gummy candy with amazing flavours as you have never seen before. Bears & Friends Slovenija brings outstanding gourmet candy for all your sweet cravings.
Bears & Friends gummies are made with love and German devotion. With over 20 years of traditions Bears & Friends gummies bring sweet excitement to German consumers as well as other parts of the world. Now they are also available in Slovenia, at Supernova Ljubljana Rudnik, where you can find a wide variety of gummy candy for your taste. From the sweetest flavour to popular sour candy, vegan gummies and lactose free, gluten free and sugar free candy, at Bears & Friends you can find the right gummies for you, even when under dietary restrictions.
All Bears & Friends products have the BÄRENSIEGEL quality stamp, meaning they achieve the highest standards of quality and taste. Have a sweet treat with us and discover a completely new dimension of candy.